Starting
The base or platform you are using needs to be solid, most use existing benches etc and don't have to consider this. If however you want to build a platform, I suggest plywood, rather than chipboard or MDF board. The ply is relatively light and will last for years. No matter which material you will need a frame but don't overdo it. See your local hardware and they will suggest a suitable type of frame which will be generally timber. It is easy to work with minimal tools, most of which you probably already have.
I prefer aluminium 25 x 25mm from bunnings for a frame, you can get all the joiner pieces to make up what you need, and it is very light and will last for years. For the village base with this method I suggest foam board, again it light and gives the ability to have levels built into your base, reset a skating pond into it or create a harbour by carving ( or gouging ) a recess where you want it. It glues to itself easily so building different levels is easy.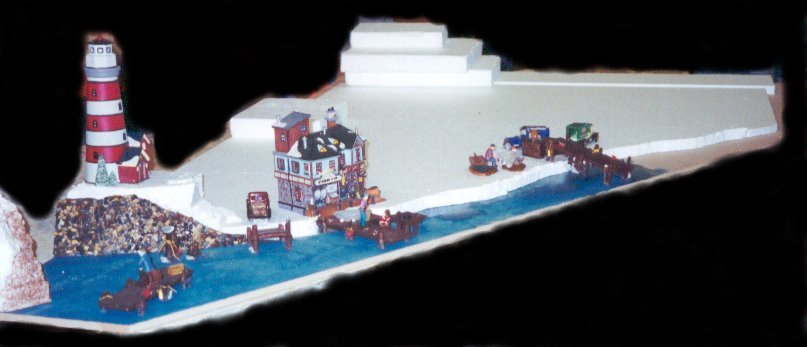 So here we see a basic start allowing for a lighthouse at the front left and at the rear right is a Ski Lift going up to a mountain. The foam sheets are stacked to roughly represent the levels required. 
An oval of model train track will be laid, so a tunnel needs to be formed along the back edge. This particular scene is designed to fit in an awkward triangle beneath stairs and was built nearly 20 years ago!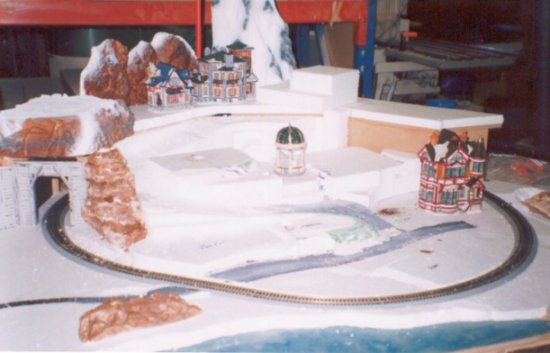 The train track, tunnel and some layers for houses has been added and a road has started to appear. Buildings are placed to get an idea of where things will be. If you look closely there are holes for the lighting coming out of the layers for building lights and power for the Gazebo.
So even now at this stage there is nothing fixed in stone, changes can be made to suit the direction taken. The fun has begun!
This is an example of a simple trick to make your scene look more realistic. The Lemax Cobble Path has had the edges sprinkled with snow to hide the square edged path look. Often the small touches such as this make the scene "Real"!