Barcourt Pty Ltd"Where EVERY DAY IS Christmas"
at
Christmas Every Day

We are a YEAR ROUND CHRISTMAS, LEMAX VILLAGE, DOLLHOUSE and MODEL TRAIN SHOP 
please drop in to see us!

Christmas Hours
Tuesday to Friday 9:00 to 4:30
Saturdays 9:00 to 2:00
Sundays 10:00 to 2:00
Closed Mondays
We are open until Christmas Eve Midday

Re Opening Wednesday 7th January 2015

Reverting to

Wednesday to Friday 9:30 to 4:30
Saturday 9:00 to 1:00
For other hours whilst we attend Shows in

Melbourne Sydney and Brisbane see below.



Home of the Lemax Village Collection

Tel.  55270711 area code 07
international callers dial +61 - 7 -55270711
Prices shown on this web site are for "Mail Orders Only"
Shop prices may differ.

Our Permanent  "Christmas Every Day" Shop is at 
Unit 4 & 5  50 Johnston Street Southport Queensland, 
Look for the Black Building with the Red Awnings,

please drop in to visit if you are on the Gold Coast.

Christmas Every Day is the oldest established Christmas Shop on the Gold Coast

and have been selling LEMAX since 2002
For latest news and information go to



Click here to go to Christmas Every Day Facebook Page
"Like" us on the Facebookpage

We will be closed for times during the earlier part of the year whilst we attend Shows as listed below;
Brisbane Dollhouse and Miniature Extravaganza February 6th to 8th

Sydney Trade Fair 20th February reopening February 25
Sydney Dollhouse Show May 1st to 5th
Victorian Dollhouse Show July 10th to 14th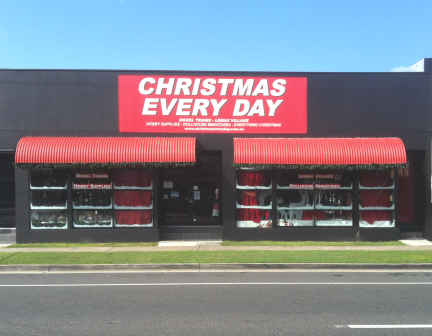 Christmas Every Day

Map below shows our new location.
Click on the "-" at the top left of the map to expand the map and display adjacent area for navigation
If coming from Brisbane or Tweed Heads use "Exit 66" Smith Street Motorway
After going under the Griffith University Pedestrian Overpass turn right at

Kumbari Ave and then first left into Johnston Street

We accept payment for mail orders via;
Visa or Mastercard
Direct Deposit
Money order

Cheque ( subject to clearance )